Hello, from Zippy!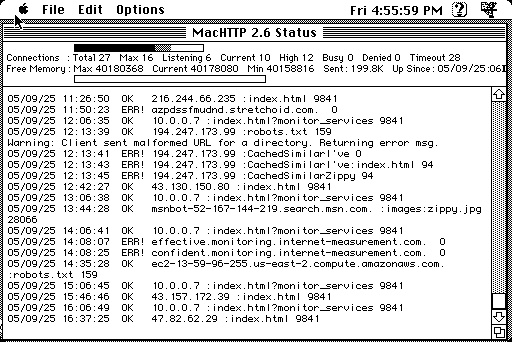 Above is an actual snapshot of my screen showing the MacHTTP web server log. You can watch the web server log update on my screen whenever someone loads this web page! The image will update periodically if Javascript is enabled in your web browser.
About Zippy
A marvel of vintage technology, this web page is hosted on a twenty four year old Apple Macintosh SE/30 we affectionately call Zippy! = )
When Zippy is up and running, I use an Axis network camera (shown above) to take periodic snapshots of Zippy's screen for publication on this web page.
At the moment Zippy is taking a much-needed rest, packed into a nice, cozy box. : ) While he rests, Zippy's operating system and web server are running in an open-source 68k Macintosh emulator called Basilisk II on a Mac mini server.
Zippy has 80 megabytes of RAM installed, and is currently running Mac OS 7.5.5. I've installed an Asante MacCon 10 megabit Ethernet card in the SE/30 PDS expansion slot, giving Zippy full network connectivity. The software serving this web page to you is MacHTTP 2.6. I use a utility called Sleeper to put the hard drive to sleep when it is not in use. And I use Shareway IP Personal to access Zippy's files over the network.
About the Macintosh SE/30
The Macintosh SE/30 (EveryMac specifications) is arguably the most popular classic Macintosh model from Apple's early days. The Mac SE/30's CPU (central processing unit), screen, hard drive, and floppy drive are enclosed together in a small, beige case, like the original Macintosh 128k. Retailing for $6,500, the Mac SE/30 was introduced on January 19, 1989 and was discontinued on October 21, 1990.
This was the first small form factor Macintosh to ship with the Apple FDHD 1.4 megabyte "SuperDrive" standard, with the ability to read and write data to DOS format diskettes. This is also the first small form factor Macintosh that was able to hold more than 4 megabytes of RAM (Random Access Memory).

Exploded view of the Macintosh SE/30 showing internal components
A 9-inch, 512 x 342 pixel, black and white CRT display was standard on all Macintosh SE/30s. Depending on the configuration, the Mac SE/30 came with an internal 40 or 80 megabyte SCSI drive, and a single 1.4 megabyte "SuperDrive" FDHD floppy drive.
The SE/30 has eight RAM slots, and came with 1 MB of RAM in the default configuration, which is expandable to 128 MB using pairs of 150 nanosecond, 30-pin SIMMs. The SE/30 sported a blazing 16 MHz, 32-bit Motorola 68030 microprocessor, and Apple's partially-32-bit (also called "32-bit dirty") 256 kilobyte Old World Mac ROM chip. The SE/30 provided two ADB ports for connection of peripherals such as keyboards and mice, two 8-pin DIN 45326 serial ports for connection of printers and modems, and an external DB-25 SCSI port for connection of external hard drives, scanners, and other devices. The Mac SE/30 included a 120-pin, EuroDIN PDS expansion slot, for connection of Ethernet cards, CPU accelerators, external display cards, and so on.
Apple introduced this Macintosh model the same year that Tim Berners-Lee published the information management proposal that was essentially the beginning of the World Wide Web! As fate would have it, Tim also developed the first web browser for the NeXTStep operating system, the forerunner to Apple's Mac OS X.
Incidentally, 1989 was also the year that the infamous dog cow known as Clarus, the Macintosh developer group's mascot, was born! Here's a reproduction of the original Apple technote. Here is technote 1031 (PDF download), a history of dog cow. And here is the Moof Museum.
References
For more details about this model Macintosh, see:
Vintage Macintosh Help Sites
Here are some other vintage Macintosh web sites I visit from time to time:
Other Vintage Macintosh Web Servers
loading...
This web site is dedicated to my father, who lovingly introduced me to computing and programming at a young age.